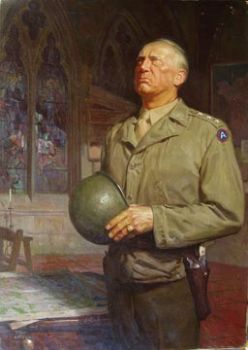 On December 8, 1944, General Patton called Msgr. James H. O'Neill, Chief Chaplain of the Third Army, and asked, "Do you have a good prayer for weather? We must do something about those rains if we are to win the war." It had rained since September. Chaplain O'Neill typed a prayer on a 3x5 card which read:
"Almighty and most merciful Father, we humbly beseech Thee, of Thy great goodness, to restrain these immoderate rains with which we have had to contend. Grant us fair weather for Battle. Graciously hearken to us as soldiers who call upon Thee that, armed with Thy power, we may advance from victory to victory, and crush the oppression and wickedness of our enemies and establish Thy justice among men and nations."
Then, remembering that Christmas was nearing, he typed the Army Commander's Christmas Greetings on the other side:
"To each officer and soldier in the Third United States Army, I Wish a Merry Christmas. I have full confidence in your courage, devotion to duty, and skill in battle. We march in our might to complete victory. May God's blessings rest upon each of you on this Christmas Day. G.S. Patton, Jr, Lieutenant General, Commanding, Third United States Army"
General Patton looked at it and said, "Have 250,000 copies printed and see to it that every man in the Third Army gets one." Then he asked the chaplain how much praying was being done.
The chaplain answered, "I am afraid to admit it, but I do not believe that much praying is going on. When there Is fighting, everyone prays, but now with this constant rain -- when things are quiet, dangerously quiet, men just sit and wait for things to happen. Prayer out here is difficult."
General Patton then discussed his belief in the power of prayer. "I wish you would put out a Training Letter on this subject of Prayer to all the chaplains; write about nothing else, just the importance of prayer. Let me see it before you send it. We've got to get not only the chaplains but every man in the Third Army to pray. We must ask God to stop these rains. These rains are that margin that hold defeat or victory. If we all pray, it will be like what Dr. Carrel said. It will be like plugging in on a current whose source is in Heaven. I believe that prayer completes that circuit. It is power."
So on December 14, 1944, Training Letter No. 5 was sent:
"Chaplains of the Third Army, At this stage of the operations I would call upon the chaplains and the men of the Third United States Army to focus their attention on the importance of prayer.
"Our glorious march from the Normandy Beach across France to where we stand, before and beyond the Siegfried Line, with the wreckage of the German Army behind us should convince the most skeptical soldier that God has ridden with our banner. Pestilence and famine have not touched us. We have continued in unity of purpose. We have had no quitters; and our leadership has been masterful. The Third Army has no roster of Retreats. None of Defeats. We have no memory of a lost battle to hand on to our children from this great campaign.
"But we are not stopping at the Siegfried Line. Tough days may be ahead of us before we eat our rations in the Chancellery of the Deutsches Reich.
"As chaplains it is our business to pray. We preach its importance. We urge its practice. But the time is now to intensify our faith in prayer, not alone with ourselves, but with every believing man, Protestant, Catholic, Jew, or Christian in the ranks of the Third United States Army.
"Those who pray do more for the world than those who fight; and if the world goes from bad to worse, it is because there are more battles than prayers. 'Hands lifted up,' said Bosuet, 'smash more battalions than hands that strike.' Gideon of Bible fame was least in his father's house. He came from Israel's smallest tribe. But he was a mighty man of valor. His strength lay not in his military might, but in his recognition of God's proper claims upon his life. He reduced his Army from thirty-two thousand to three hundred men lest the people of Israel would think that their valor had saved them. We have no intention to reduce our vast striking force. But we must urge, instruct, and indoctrinate every fighting man to pray as well as fight. In Gideon's day, and in our own, spiritually alert minorities carry the burdens and bring the victories.
"Urge all of your men to pray, not alone in church, but everywhere. Pray when driving. Pray when fighting. Pray alone. Pray with others. Pray by night and pray by day. Pray for the cessation of immoderate rains, for good weather for Battle. Pray for the defeat of our wicked enemy whose banner is injustice and whose good is oppression. Pray for victory. Pray for our Army, and Pray for Peace.
"We must march together, all out for God. The soldier who 'cracks up' does not need sympathy or comfort as much as he needs strength. We are not trying to make the best of these days. It is our job to make the most of them. Now is not the time to follow God from 'afar off.' This Army needs the assurance and the faith that God is with us. With prayer, we cannot fail.
"Be assured that this message on prayer has the approval, the encouragement, and the enthusiastic support of the Third United States Army Commander.
"With every good wish to each of you for a very Happy Christmas, and my personal congratulations for your splendid and courageous work since landing on the beach, I am," etc., etc., signed The Third Army Commander.
The letters and cards were sent December 12-14th. On December 16th, the German "crept out of the Schnee Eifel Forest in the midst of heavy rains, thick fogs, and swirling ground mists that muffled sound, blotted out the sun, and reduced visibility to a few yards. The few divisions on the Luxembourg frontier were surprised and brushed aside. They found it hard to fight an enemy they could neither see nor hear. For three days it looked to the jubilant Nazis as if their desperate gamble would succeed. They had achieved compete surprise."
They moved on to the area held by the VIII Corps. "As General Patton rushed his divisions north from the Saar Valley to the relief of the beleaguered Bastogne, the prayer was answered. On December 20, to the consternation of the Germans and the delight of the American forecasters who were equally surprised at the turn-about-the rains and the fogs ceased. For the better part of a week came bright clear skies and perfect flying weather. Our planes came over by tens, hundreds, and thousands. They knocked out hundreds of tanks, killed thousands of enemy troops in the Bastogne salient, and harried the enemy as he valiantly tried to bring up reinforcements. The 101st Airborne, with the 4th, 9th, and 10th Armored Divisions, which saved Bastogne, and other divisions which assisted so valiantly in driving the Germans home, will testify to the great support rendered by our air forces. General Patton prayed for fair weather for Battle. He got it."
In January 1945, when the chaplain saw the Army Commander again, General Patton said, Well, Padre, our prayers worked. I knew they would."
www.pattonhq.com/homeghq
.html